maxis_taste Dare #22: Personal Space - Angela Pleasant
Jul. 16th, 2011
08:24 pm


charamei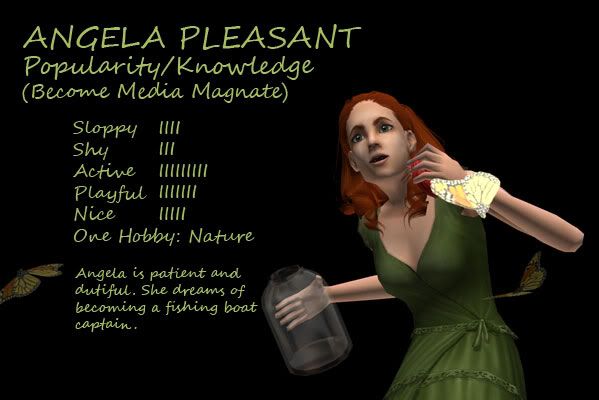 Welcome to Angela's room! She's a bit shy, so we've had to break in while she's at school. Fortunately for us, her father gives away house keys like... well, like a Romance Sim. So I, being young and female, bribed the maid.
What? I have standards. Unlike the maid.
Where was I? Ah, yes, Angela. Well, the first thing you'll notice about Angela, if you speak to her for any length of time at all, is that there's one thing she really,
really
likes.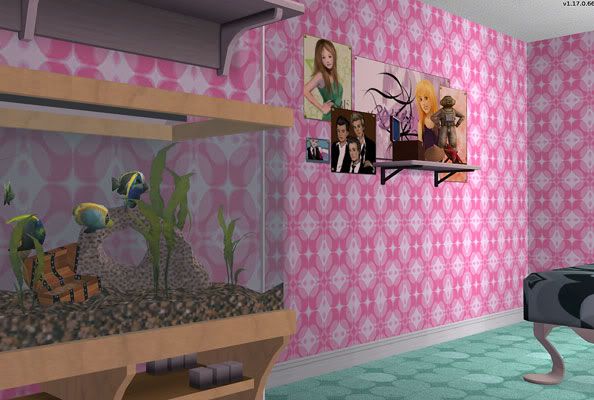 And that's fish.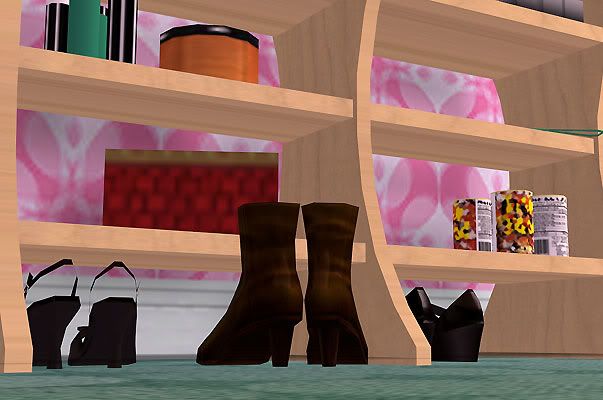 And shoes. But mostly fish.
Other animals are exciting too, she will assure you if you mention her fish obsession. She quite likes bugs and butterflies (though she'd never collect them - sticking pins in the poor things?!). In fact, insects are another speciality, and did you know that lots of freshwater fish eat insects? The Rainbow Trout, for example -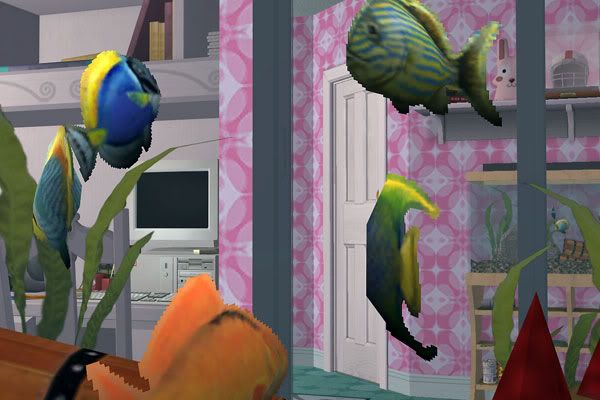 As it happens, Angela's fish find Angela quite fascinating, too, and the placement of their tank affords them a perfect opportunity to observe her going about her daily routine. Thanks to the mirror on her wall closet, they can even see around the corner to the door behind them, in addition to a view of the bed and the desk.
Her desk is more or less what you'd expect from a teenaged girl. Music, textbooks, and magazines ranging from Sparklespinner Weekly to Highbrow Review and Superstar Report. In fact she's trying her own hand at journalism at the moment, helping to put the school yearbook together: she figures if the fishing boat captaincy doesn't pan out, she can always write for nature magazines.
What else... oh, of course! The treasures.
It will probably come as no surprise by now that most of them are from the sea. The swimming trophy is actually Lilith's: when she threw it out, Angela kept it just in case she wants it back some day. The memories associated with it might not be
all
good, but they're good enough.
As for the other treasure, well. She couldn't really give a fig about sport, but she does love her dad. And again, Lilith didn't want it...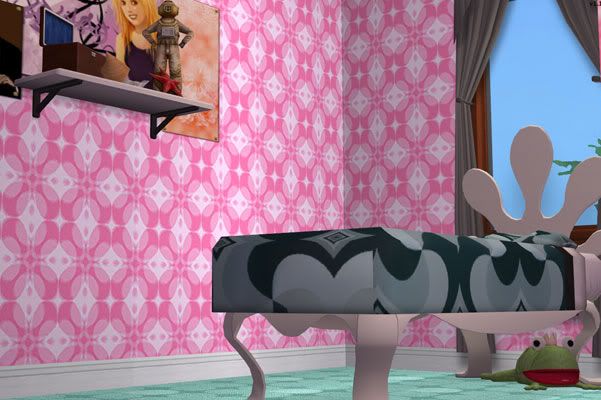 Last but not least, there's Fweddy - hold on. Ssh. I hear someone moving about downstairs. If we're lucky, it'll just be the maid -
- no. It's Lilith.
RUN!