charamei
Ooh, cool, Merlin's looking interesting. Hopefully it won't devolve back into Monster-of-the-Week: it does politics so well that it's always a shame when the plot is yet another go-around of 'X falls in love with a monster'.
I like Merlin. It's the best televised DnD, well, ever. It's clever and silly and cracky and it has Emilia Fox.
There's just one small problem, which I can sum up in image form.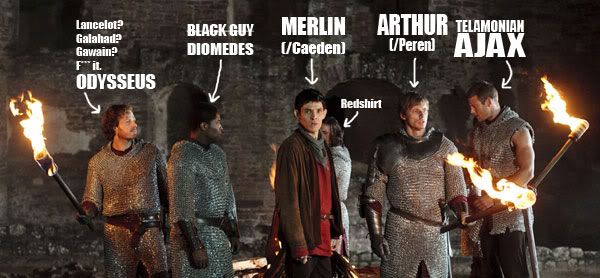 (Okay, okay, so technically Caeden's a bard, not a wizard, but I'm fairly sure Merlin is a CHA-based caster so it's all good.)
S'right. I haven't the foggiest what these knights' names are. After four series I vaguely recognise probably-Lancelot, and that's it.
Names, people! Use one another's names occasionally! I'm begging you!
Wonder if I'll know who they are by the end of the series... :p